Correct your astigmatism the healthier* way with silicone hydrogel, daily disposable lenses.
AT A GLANCE
Optimized for astigmatism
Convenient Daily replacement schedule
All Day Comfort
Whiter, Brighter Eyes with up to 4 times the oxygen of a hydrogel 1-day lens
Our Highest UVA/UVB filters
Overview
Proven Toric Lens Design
MyDay® toric lenses encompass our proven toric lens design now in a silicone hydrogel 1-day lens. These lenses deliver the consistent centration, stable fit, and excellent visual acuity you can depend on.

Simply Smarter Chemistry
Thanks to Smart Silicone™, a revolutionary breakthrough in lens chemistry, MyDay toric provides uncompromised comfort throughout your day. Here's how it works. Smart Silicone delivers oxygen to your eyes much more efficiently than other daily disposable brands, while using less silicone. That's important because less silicone allows more room in the lens for built-in channels of moisture and a naturally water-loving lens material that keeps your eyes feeling hydrated. Less silicone also makes the MyDay toric lens wonderfully soft—actually our softest silicone hydrogel lens ever
Optimized Toric Lens Geometry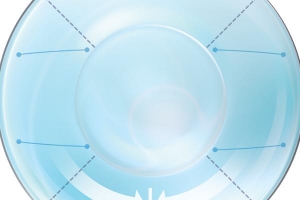 Optimised lens geometry for enhanced stability
Patients with astigmatism need lenses with different optical powers at different points that must be oriented in just the right way to correct vision. MyDay Daily Toric lenses are both stable and accurate due to Optimized Ballast Design (or Optimized Lens Geometry).
This type of design is multifaceted to ensure optimal visual acuity, fit, and comfort. The geometry of the lens and its wide ballast band quickly orient the lens for better performance and simple fitting. A uniform horizontal ISO thickness also enhances lens stability and provides a consistent fit across the power range.
A larger toric optic zone provides clear vision over a wide range of lens powers. Finally, a smooth, junction-less surface helps maximize comfort on every blink.
Product Description
| | |
| --- | --- |
| Corrects | Astigmatism: A condition derived from a cornea or lens that's stretched into an irregular shape, making images appear blurry. |
| Replacement Schedule | Daily. Lenses are to be discarded and replaced with a new lens daily. |
| UV Protection | Yes, these lenses provide UV protection. While beneficial, UV-absorbing contact lenses are not substitutes for protective UV-absorbing eyewear, such as UV-absorbing goggles or sunglasses, as they do not completely cover the eye and surrounding area. You should continue to use UV-absorbing eyewear as directed by your eye care practitioner. |
| Wettability | WetLoc™ technology creates the surface of the lens to attract moisture for optimal wettability. |
| Lenses Per Box | 30 or 90 pack |